MINAMOTHU
The Lew Griffiths Video and Photographic Library
Over a period spanning some thirty years, the AFI and Walkley Award- winning photojournalist, Lew Griffiths, assembled a unique collection of material focusing on indigenous issues and human rights. The library holds vital footage on the First Australians' quest for land rights and greater recognition, and the Cape York land rights story. It also holds footage on the Yorta Yorta native title case and a range of international human rights issues. It is a well-organised and complete record of the key moments that have significantly shaped modern Australia's relationship with its first peoples.

Lew's video library holds work shot not only by himself, but also older material copied by Lew during the early eighties, when it was already obvious that time and a lack of appropriate care would see this important footage deteriorate and become unusable. While some of the material in Lew's library can also be found in other archives around Australia, in many cases the only remaining copies are in Lew's collection.

The library was named Minamothu by the late Cape York elder, Robert Holroyd (Bernum Yeeim). In his language Minamothu is a giant python that gorges himself on knowledge—growing larger and larger, holding secrets of the land and its people. Minamothu lays spread across the entirety of Cape York, ever moving, ever gathering—holding, keeping and sharing the wisdom and knowledge for the good of its people.

The Lew Griffiths Minamothu Library contains more than 2,700 hours of video material that is gradually (as funds allow) being digitized and archived—continuing to feed Minamothu with the knowledge contained within this significant library. It is also ensuring that the footage is conserved and made available for use by all: for research, understanding, wisdom and knowledge.

For information regarding this extensive Archive please contact Louise Griffiths on minamothuarchive@gmail.com or 0418261133.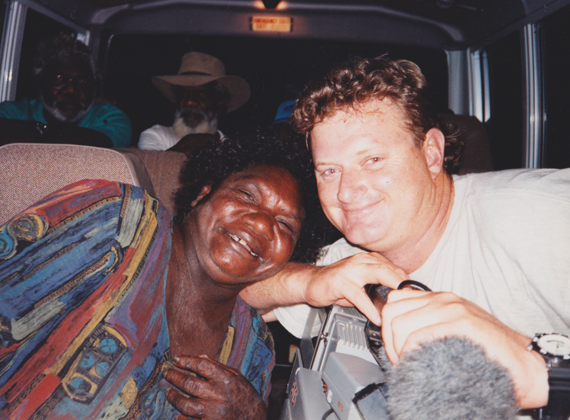 Gladys Tybingoompa with Lew Griffiths
Photo courtesy of The Lew Griffiths Minamothu Library.